JOURNEY FROM DARKNESS TO LIGHT -
The artistic
oeuvre
of my life's work illuminates a 50 year endeavor to reach the true Self I knew was there from the darkness of Complex PTSD stragetically embedded by the family dynamic. In the process, I connected many times to the Light, and most, recently cleared Quantum ancetral and past lives paradigms.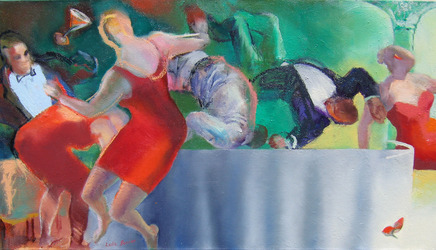 "Tumbling To the Light", oil/ canvas 20" x 30" 2007
As a college student, the urge to express myself was very strong; riddled with anxiety and depression, I painted from life during the day, and expre
ssed t
he darkness
of my inner world
at night.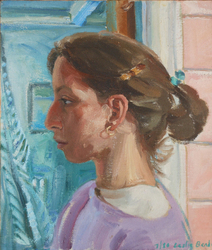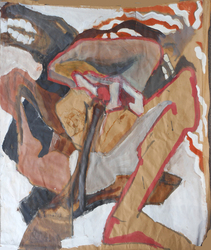 "Self Portrait at 28" oil, 12 x 14 1980 "Horse and Human Fighting", tempera on paper 1972
I had no idea I
had no memories of my childhood
~ I lived life moment to moment, unable to read, and smoking lots of cigarettes. I drew incessantly. One day in 1984, while hiking with the Appalachian Mountain Club, I saw a couple that reminded me of my parents in the woods up ahead. A door opened. I began to sob.

Soon therefter, I developed a technique to discover my past through making art. Starting with one memory, (it was of a gorgeous boy I almost dated and the hallway in our highschool), more memories surrounding the event began to unspool. Eventually, the grimness of the family dynamic began to emerge. I was stunned. It took another 40 years to integrate the effects the family dynamic had on me~ I continued the same patterns and belief systems I'd learned with the parents.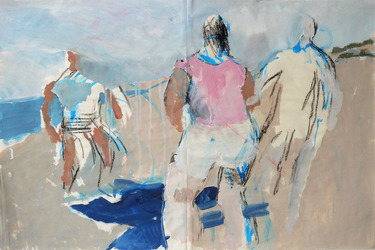 "Island Beach" 24 x 36 1989
During the next 30 years, my painting and drawing focused on the expiation of the present moment pain, knowing that that was where the connection to the original trauma began. I dug deeply into my subconscious to connect with my true self beneath the my self abusive agony.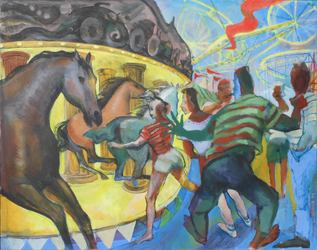 "The Big Shot" 52 x 60 inches 1994
I used the motifs of carnivals, circuses, beaches and restaurants to explore my relationships within myself and with the outside world.
By 2019, the imagery had indeed been transformed.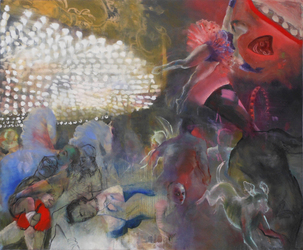 "Sleeping Mother" 46 x 58 inches 2019
Many times over the decades I delved deeply into my relationship to the Male energy. Much of it was painful, frought with the replicatin of family violence. Sometimes, a higher ethos broke through, and I connected to the Divine.
"Gift of The Father" 46 x 56, '96
My most recent massive breakthrough came in 2020, this time to the world of the Unseen. My beloved family member Nemo began speaking to me. He was in the throes of transitioning when he said, "Everything you need is here". After that, it became easy to understand his thoughts and observations. My Brilliant cat!!!! I love him so much!!! Once he passed, I threw myself into reading everything i could get my hands on about connection with the Other Side. I began to write to Neems, and each time, I became filled with Joy. He is my Guide. A year later my second beloved pussycat, Bunny transitioned; I began to hear his communications, and now he is also my Guide. What luck!!!!!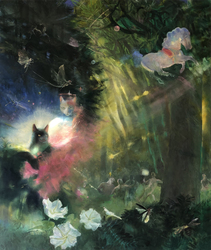 "Transition in the Woods" 60 x 50 inches, oil on canvas, 2022
On the Other side, all is LOVE, and my Sweethearts have steadily guided me toward that distant shore, so close to me, surrounding me: Love. My art has became mystical, and although there have been many times when
my art has revealed
ancient timelessness and p
redicted future events, I have begun to transition away from a lifetime of pain and to the Light.